[Maisel] USC has a stable of talented backs to choose from - ESPN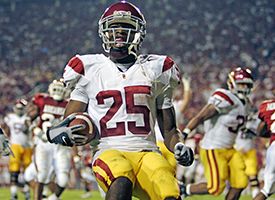 The late Agatha Christie's new mystery is "Ten Little Trojans."
When USC sophomore
Emmanuel Moody announced late last week that he intended to transfer
in order to find more playing time,
the Trojans still had nine remaining candidates from which to choose at tailback.
Offensive coordinator Steve Sarkisian assessed the field...earlier this summer.
What Sarkisian is looking for:
"The goal for us is to have
one to two lead backs and the other guys are going to be our spot, role-type players,
whether it's short yardage, whether it's third down. We're going to have one or two backs and we're going to go with them...