[Miller] USC loaded for another title run - ESPN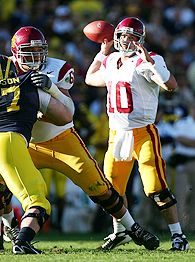 ...don't feel too bad for [John David Booty].
He could be back in his native state next January, only this time with his helmet on.
The national championship game returns to the New Orleans Superdome
in January 2008, and
lots of folks figure the Trojans will play for a third title
since 2003, their first two a split of the AP title and the BCS crown.
"It would be special,"
Booty said carefully...
...Moreover,
Booty is among a small handful of early favorites for the Heisman Trophy,
an award that USC has taken back to Heritage Hall three times since 2002.
For college football fans not draped in Cardinal & Gold, this surely feels a bit like "Groundhog Day."...