[Maisel] Turner poised to be next in long line of great Trojan receivers - ESPN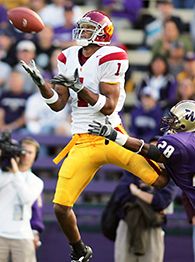 Patrick Turner arrived at USC two years ago with the fanfare accorded a top high school recruit.
Here came a 6-foot-5 wide receiver from Nashville who, like the
similarly sized Dwayne Jarrett
two years before, would step off the plane and into the starting lineup.
Add uniform and stir: instant star.
That didn't happen.
Life isn't that easy, especially at USC,
where the scout team is filled with high school phenoms.
Turner remained
an understudy to Jarrett and Steve Smith
for two seasons. There's
no shame in backing up receivers who became NFL second-round draft picks
this past April. But
the reality of standing on the sideline for two seasons can grind down any high school stud
who has been wooed by the top coaches in the country...