[Griffin] Young, Bush among select group of iconic talents - ESPN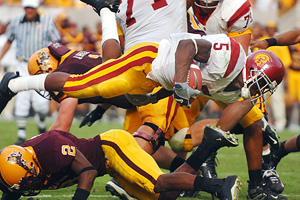 ...the
individual players who helped shape and define the last 10 seasons...
...2. Reggie Bush:
...Pete Carroll gave him a
tape of Gale Sayers when he arrived at college. Bush spent the next three seasons emulating and eventually bettering
the accomplishments of the iconic running back...
...3. Matt Leinart:
...His team won a share of two national championships and played for another one.
Life is pretty good for a successful quarterback at Southern California,
so it's no surprise that Leinart wanted to stretch his college career as long as possible...