[Moore] Go 2 Guy: Breaking news - Seattle P-I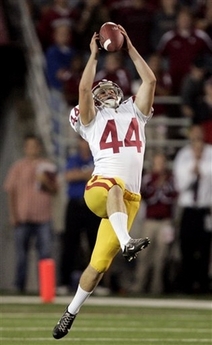 ...ESPN and ABC commentator
Kirk Herbstreit called Greg Woidneck "the best-kept secret in college football."
Hint:
He's a starter but rarely plays for USC
, and rarely earns his scholarship...
...This is
a hard thing to do when you're the punter for the No. 1 team...
...So what's it like being USC's punter?
"It can be hard to stay focused,"
Woidneck said. "It definitely gets a little lonely and frustrating.
But if I'm not punting, it means we're winning."...
...Asked
if the staff ever has to wash his uniform,
Woidneck said:
"I don't know, probably not,
especially after the last game.
I'm not getting dirty that much."...