USC foes will be 'Maualugaed' - ESPN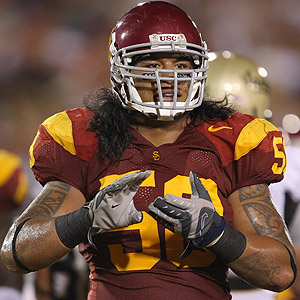 ...Maualuga
is a uniter, not a divider. If a person appreciates football distilled to its most basic essence -- knocking the pooh out of another guy -- then
it's simply impossible to not like Maualuga...
...That's why
a Maualuga neologism
found its way into the online
Urban Dictionary: Maualugaed. Defined as: "In football, it is used to describe when a player is absolutely destroyed by a hit.
A reference to USC linebacker Rey Maualuga.
Pronounced: mao-uh-loo-guhd."
And as used in a sentence:
"Dude, did you just see the Michigan QB get completely maualugaed? I'm surprised he can still walk!"...